My Clinical Approach
I believe that every fertility problem has a personal solution. Prior to adjusting the personal treatment.
I study in depth the case including a detailed conversation, advanced laboratory tests, and ultrasound for the examination of the ovaries. After processing all the data I am suitable for each patient / patient a unique treatment protocol. I have developed new and varied treatment modalities which can not be found in another clinic. I combine treatment with a wide range of problems that may affect fertility such as: nutrition, hormonal changes, mental changes. I am a great stork of preventive treatments and want to help many women prevent fertility problems before they get worse. I was especially attracted to the field of fertility preservation as it brings everything that is beautiful in modern medicine. Life-threatening patients and major mental difficulties who need immidiate help to prevent fertility problems in the future.​
My job is in a short time to give them the best professional and personal treatment. The decisions are not simple, and require close cooperation between surgeon oncologists and the fertility doctor. Fertility treatments in cancer patients are the most challenging because many factors influence the therapeutic decisions according to the patient's cancer and the urgency of solving the fertility problem, while exercising discretion regarding the urgency of treatment of cancer. I love to devote myself to my patients and give me all of myself and the challenge of treating a cancer patient gives me great satisfaction.
Tools I learned from preserving fertility in cancer patients can be contained on other women. Fertility conservation is an important process for women who have not yet had children but are interested in doing so in the future. Waiting for older age reduces the chances of pregnancy and today we have many tools to ensure future fertility by current actions both in cancer patients and in healthy women.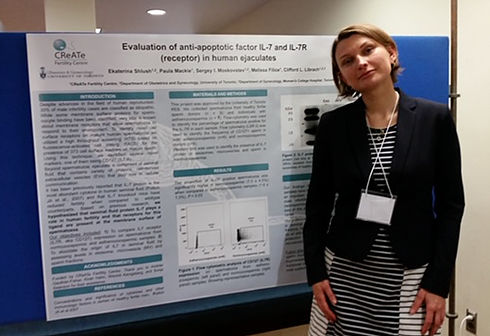 Welcome to Dr Katy Shlush Fertility Clinic
Dr. Katy Shlush is currently a senior physician in the Fertility and In Vitro Fertilization Unit at the Rabin Medical Center Petah Tikva and fertility consultant at Meuhedet Health Services and Clalit HMO.
Dr. Shlush completed her internship in Obstetrics and Gynecology at the Rambam Medical Center in Haifa, and after completing her internship worked for three years as a senior in-vitro fertilization physician at the Hillel Yaffe Hospital in Hadera. In 2012 she traveled to the Fertility Unit at the Women's College Hospital in Toronto, Canada, during period she developed three new diagnostic and treatment methods, and explored possibilities for extracellular sperm production. Fertility service at home Patients.
After completing her studies in Canada, she joined the fertility unit at Rambam Medical Center in Haifa in 2016 as head of the sperm bank and in charge of fertility preservation in the hospital. 
In the course of her work, Dr. Shlush introduced new treatment methods for cancer patients to give them new possibilities to prevent the possible harm to fertility as a result of the treatments. Dr. Shlush treated a wide range of young and old cancer patients. In the Rambam Medical Center Dr. shlush has implemented methods for freezing ovaries prior to urgent chemotherapy treatments when there is not enough time to freeze eggs. Today, Dr. Shlush leads the Rabin Medical Center in women with fertility problems due to endometriosis. Here, too, multidisciplinary cooperation is needed to address this difficult problem. Dr. Shlush performs private fertility treatments at her clinic, and also in Herzliya Medical Center and in Assuta Ramat Hachayal / Rishon Lezion.
Scientific Articles
1. Hong SH, Maghen L, Kenigsbcerg S, Teichert AM, Rammeloo AW, Shlush E, Szaraz P, Pereira S, Lulat A, Xiao R, et al.: Ontogeny of human umbilical cord perivascular cells: molecular and fate potential changes during gestation. Stem Cells Dev 2013, 22:2425-2439.
2. Lazer T, Dar S, Shlush E, Al Kudmani BS, Quach K, Sojecki A, Glass K, Sharma P, Baratz A, Librach CL: Comparison of IVF Outcomes between Minimal Stimulation and High-Dose Stimulation for Patients with Poor Ovarian Reserve. Int J Reprod Med 2014, 2014:581451.
3. Gat I, Shlush E, Quach K, Librach CL: The continuum of high ovarian response: a rational approach to the management of high responder patient subgroups. Syst Biol Reprod Med 2015, 61:336-344.
4. Maghen L*, Shlush E*, Gat I, Filice M, Barretto T, Jarvi K, Lo K, Gauthier-Fisher AS, Librach CL: Human umbilical perivascular cells: a novel source of MSCs to support testicular niche regeneration. Reproduction 2016. *Equal contribution
5. Shlush E, Maghen L, Swanson S, Kenigsberg S, Moskovtsev S, Barretto T, Gauthier-Fisher A, Librach CL: In vitro generation of Sertoli-like and haploid spermatid-like cells from human umbilical cord perivascular cells. Stem Cell Res Ther 2017, 8:37.